Facebook Lead Ads is an effective tool for launching and running advertising campaigns, thanks to which you can receive contact information for leads, such as a phone number and email. In addition, it is convenient for the user, as it makes it possible to fill out the form without going to any external resource. If you use this service for promotion on a social network and use the Zoho CRM platform to maintain and control business processes, eventually you will need to automate the transfer of leads. In this article, we'll show you how to set up automatic transfer of lead contacts through the Zoho and Facebook integration.
Facebook Lead Ads are a tool used by marketers and social media promoters to increase their lead generation efficiency. Essentially, this is an advertising format (lead form) that gives Facebook users the opportunity to signal their desire to buy a product, sign up for a service, or attend an event in a couple of clicks by leaving a request with their contact information. The creators of such forms put maximum creativity into them and supply them with tempting offers. The main purpose of a lead form is to encourage a person to fill it out and provide personal contacts for the business.
Zoho CRM is a cloud platform for marketing and sales automation. This is a comprehensive service used to manage business processes, speed them up, and improve efficiency. It can conveniently and securely store data about all clients, trading operations, and concluded transactions. This platform is equally suitable for private entrepreneurs and small companies consisting of just a few people, as well as large corporations.


Zoho CRM functionality allows you to easily manage trade transactions, manage leads, manage your contact database, and, of course, automate routine work processes. With this program, you can:
search, identify, and capture leads;
create new contacts and send them to managers for processing;

track interactions with potential clients at each stage and identify the most successful versions;

receive detailed information about the buyers and establish effective communication with them;

build a sales funnel;

set bills.

Facebook Lead Ads and Zoho CRM are popular tools in the commerce field that are actively used by many marketers today. Previously, contacts caught using Facebook Lead Ads were usually entered manually into Zoho CRM. As their number grows, such data transfer takes more and more time, but this is far from the only task. Time is one of the most valuable resources, so the optimal solution in this case is to automate the process. And here, the no-code service SaveMyLeads will come to your aid. This is an online connector that will provide reliable communication between both systems. Through Zoho CRM and Facebook integration, you will automatically upload contact information for leads from the social network to the CRM system.
How to Set up Facebook and Zoho Integration
The Zoho integration with Facebook Lead Ads via API is a task that is feasible for almost any programmer. But why waste time waiting for it to be completed by a full-time specialist or your budget on paying for the services of someone from outside if right now you can use a quick and economical solution – the SaveMyLeads service? Our online connector will help you set up the required integration in just a few minutes. The intuitive interface and algorithm of its operation, as well as our step-by-step instructions, make it possible for even a completely inexperienced user to easily cope with this task.
The Zoho CRM integration with Facebook Lead Ads works according to the following principle: "source-connector-receiver". The SaveMyLeads connector monitors new leads in Facebook Lead Ads and immediately sends them to Zoho CRM. To automate this process, you only need to take a few steps.
Setting up a Data Source – Facebook Lead Ads
To make the Facebook integration work, first you need to create a new connection.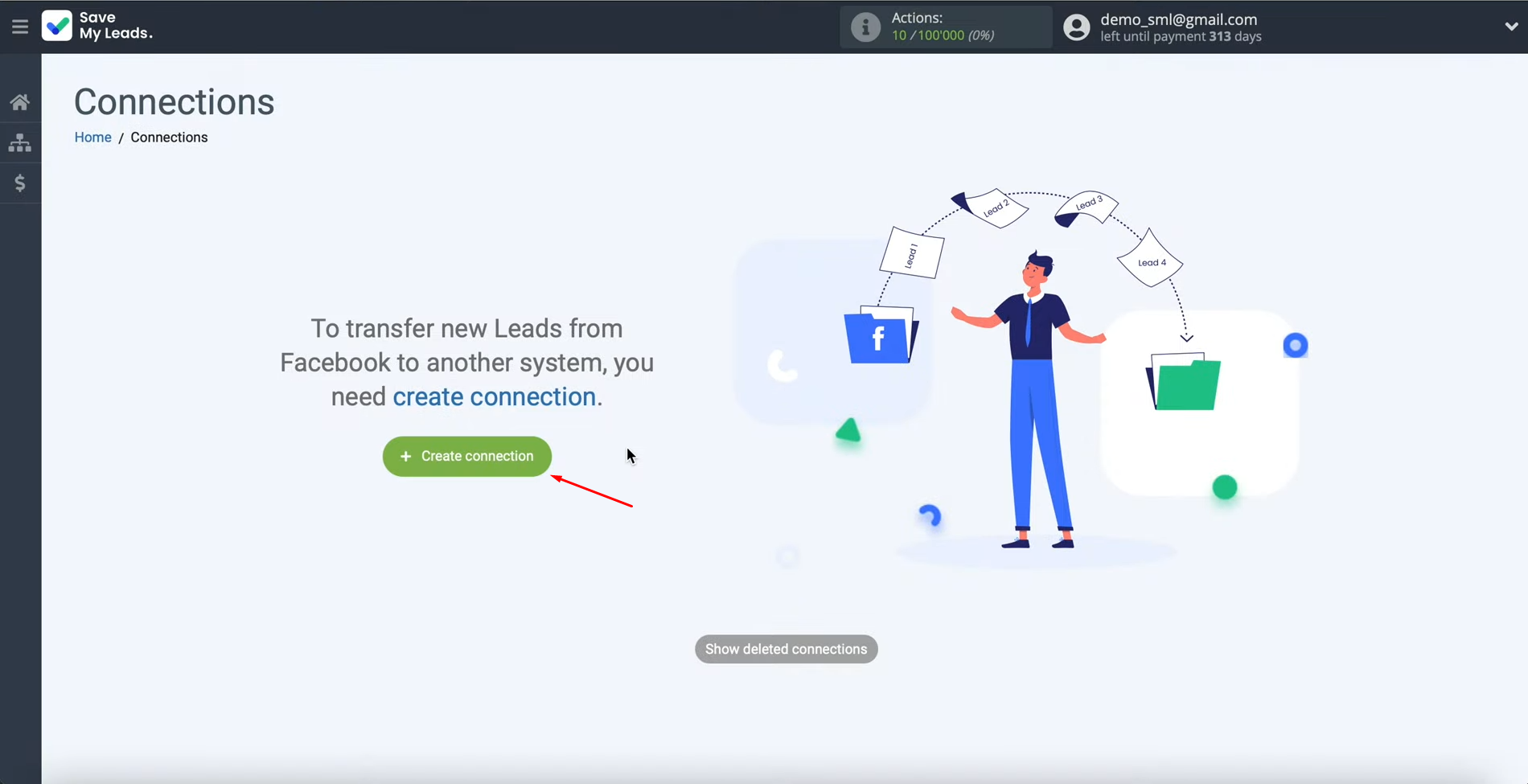 At this stage, you can use one of the ready-made templates for systems to which you can transfer data. In this case, we have to select Zoho Create Contacts.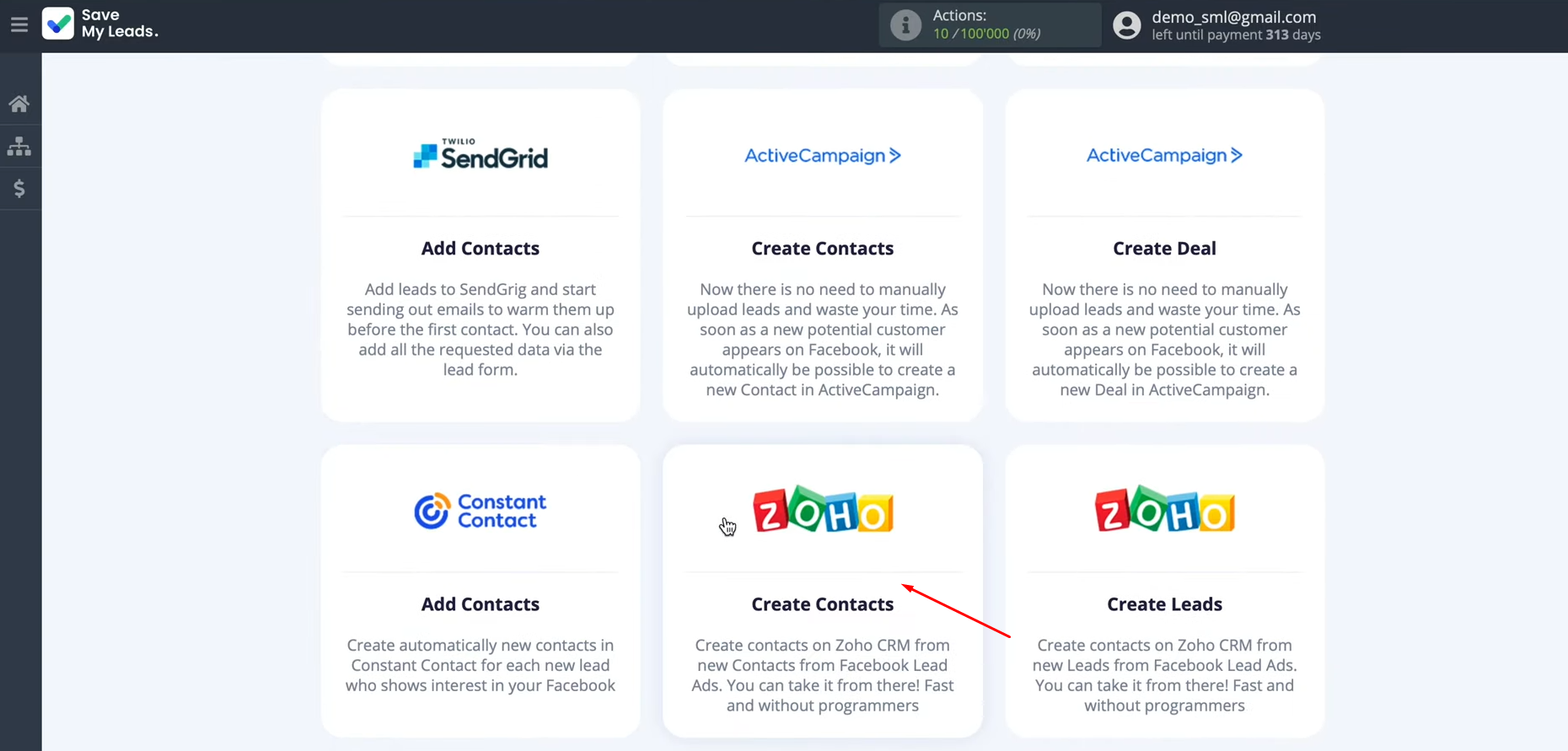 At this stage, you have to connect your Facebook account to the SaveMyLeads system.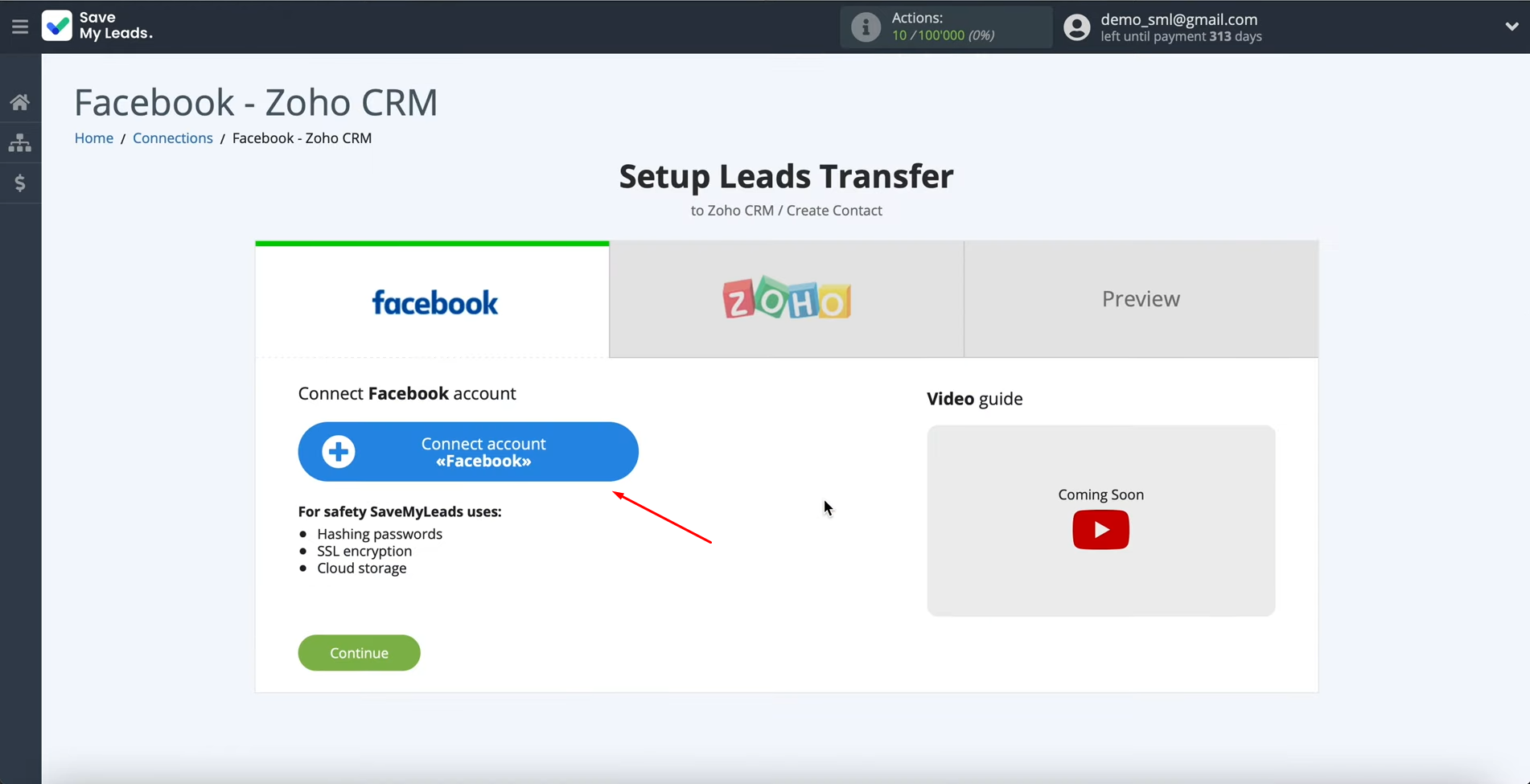 Specify the username and password of your Facebook account. Click "Log In".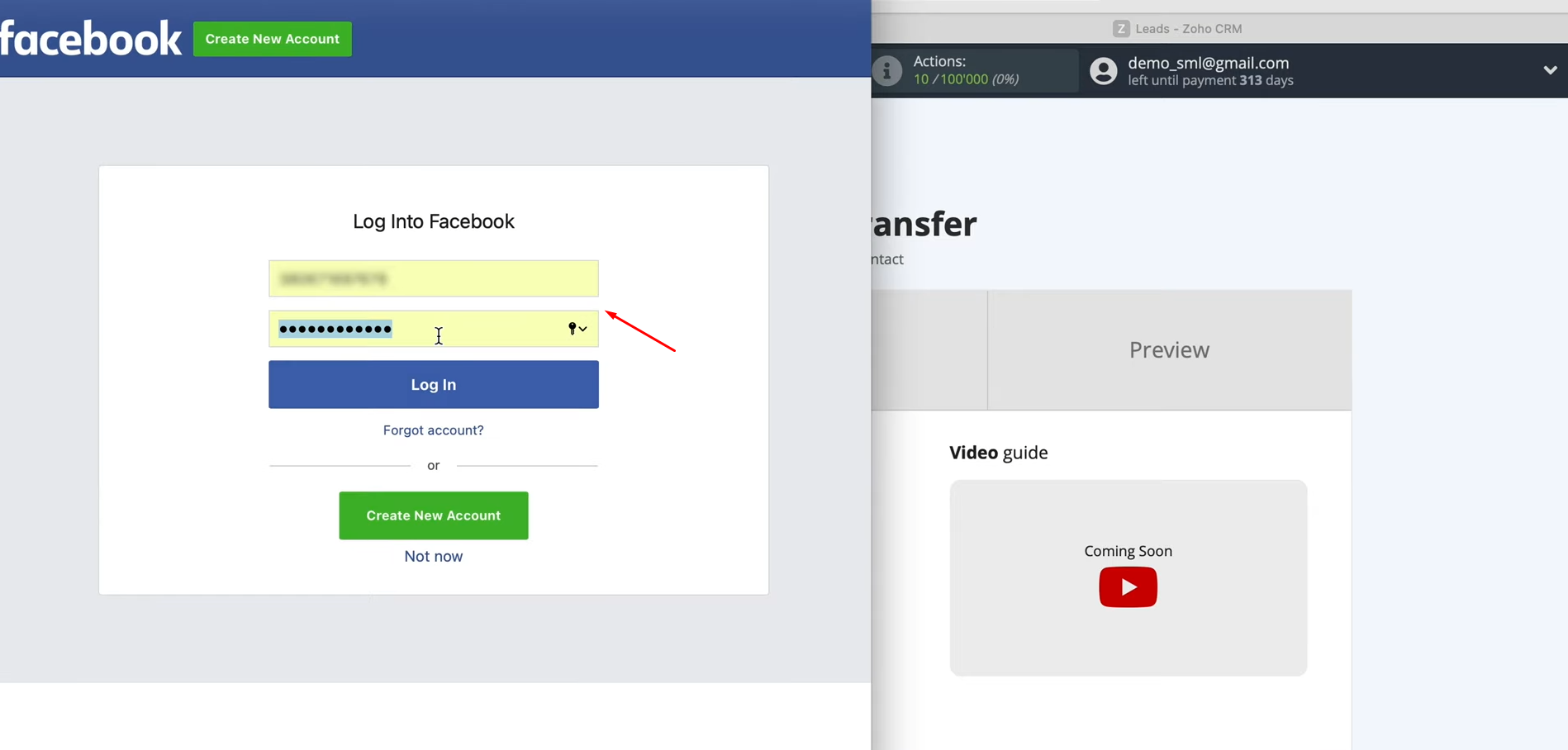 Then click "Edit Settings".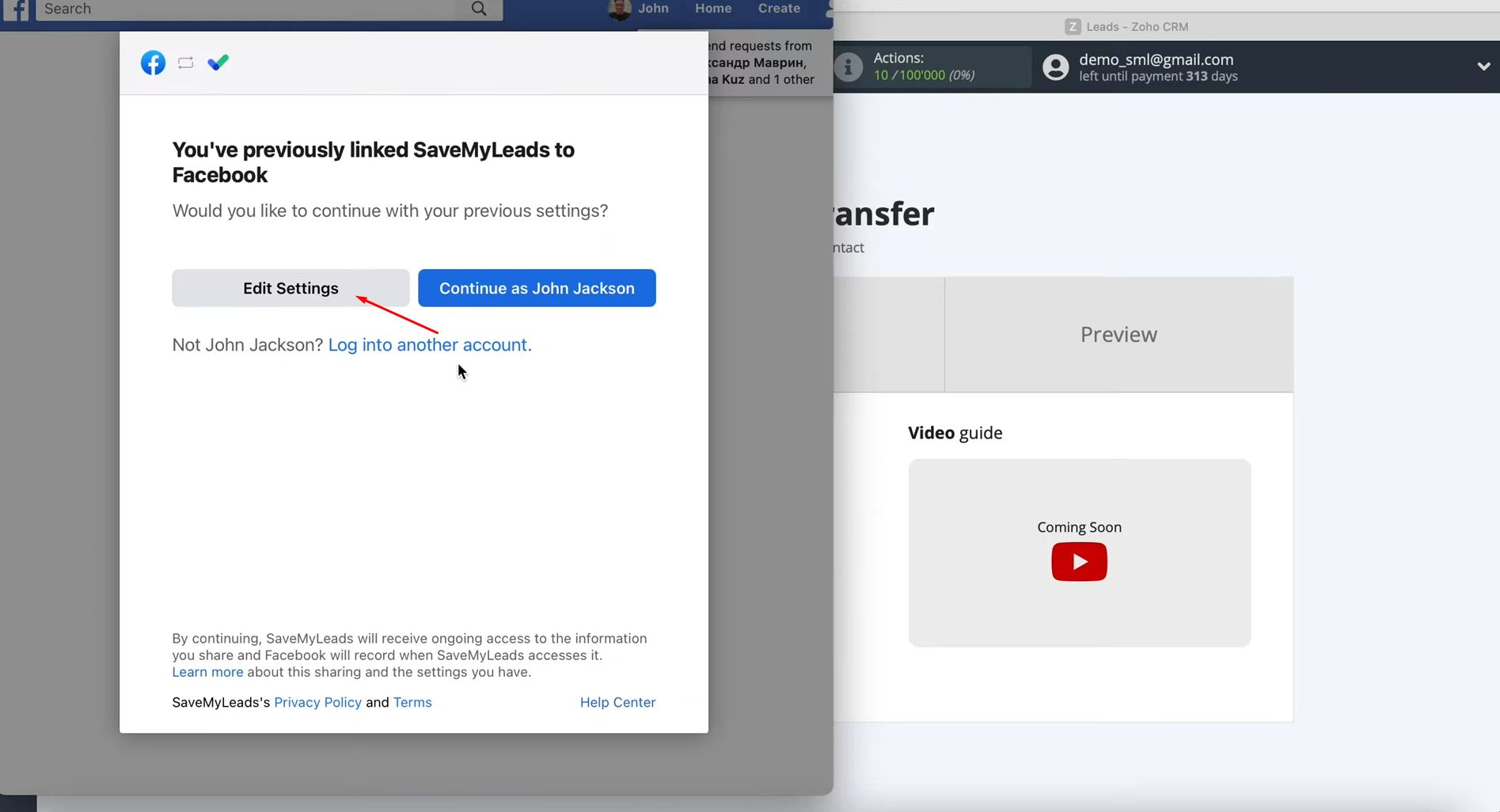 At this stage, you see all the advertising pages to which you have access. We recommend that you check all the fields at once to be able to work with them in the future. Click "Next".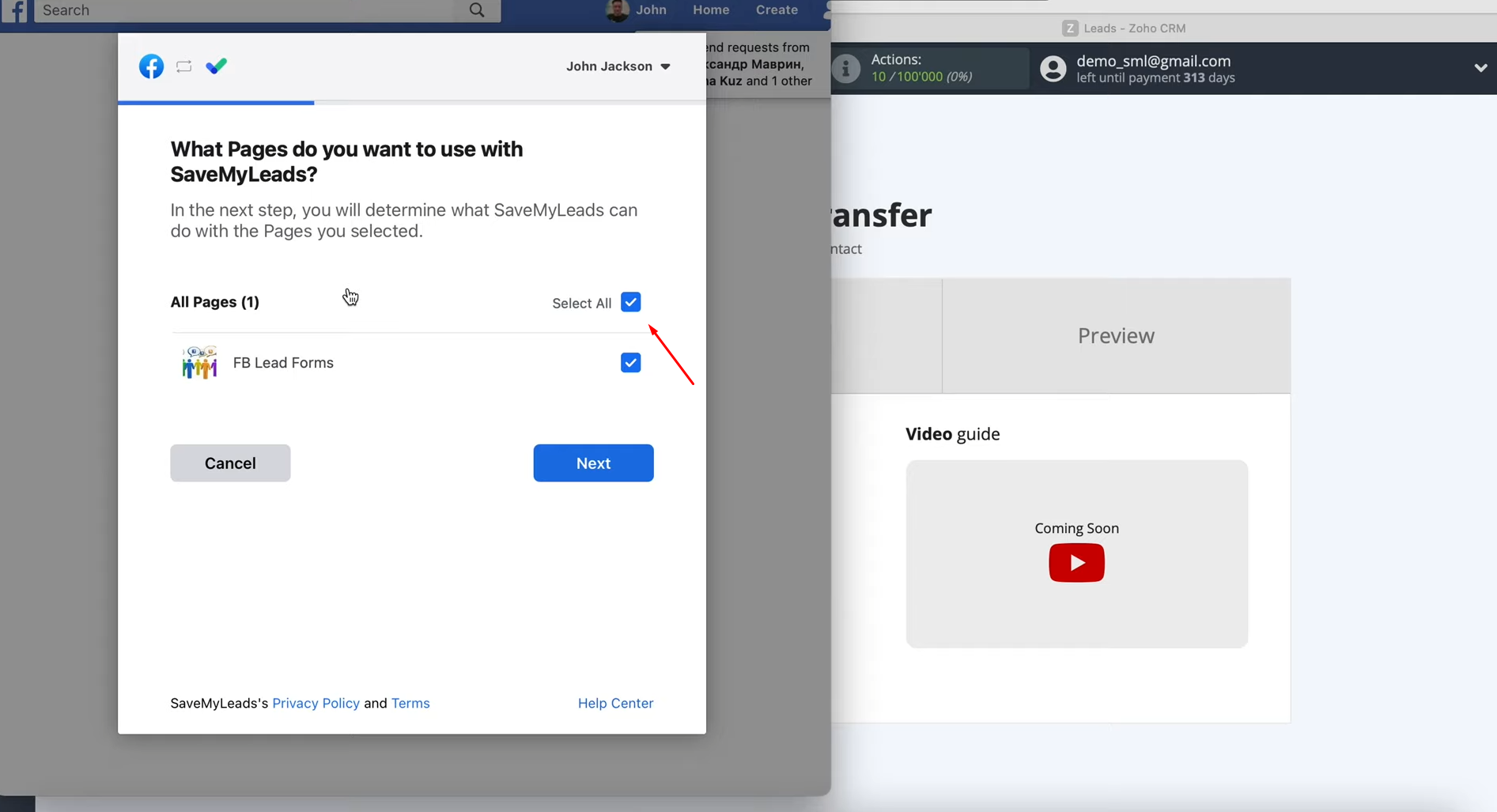 Now you need to leave all access check boxes enabled. Click "Done".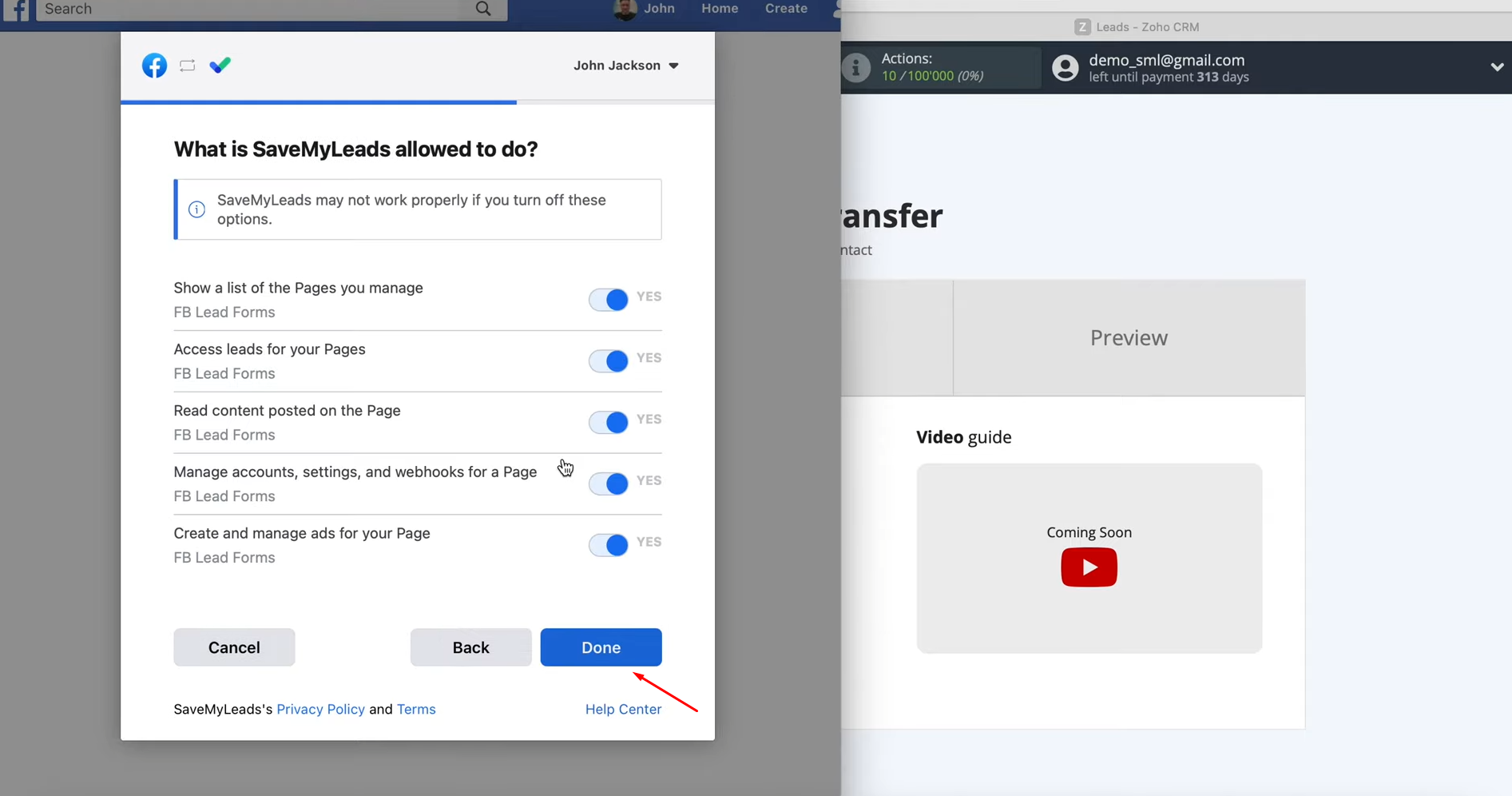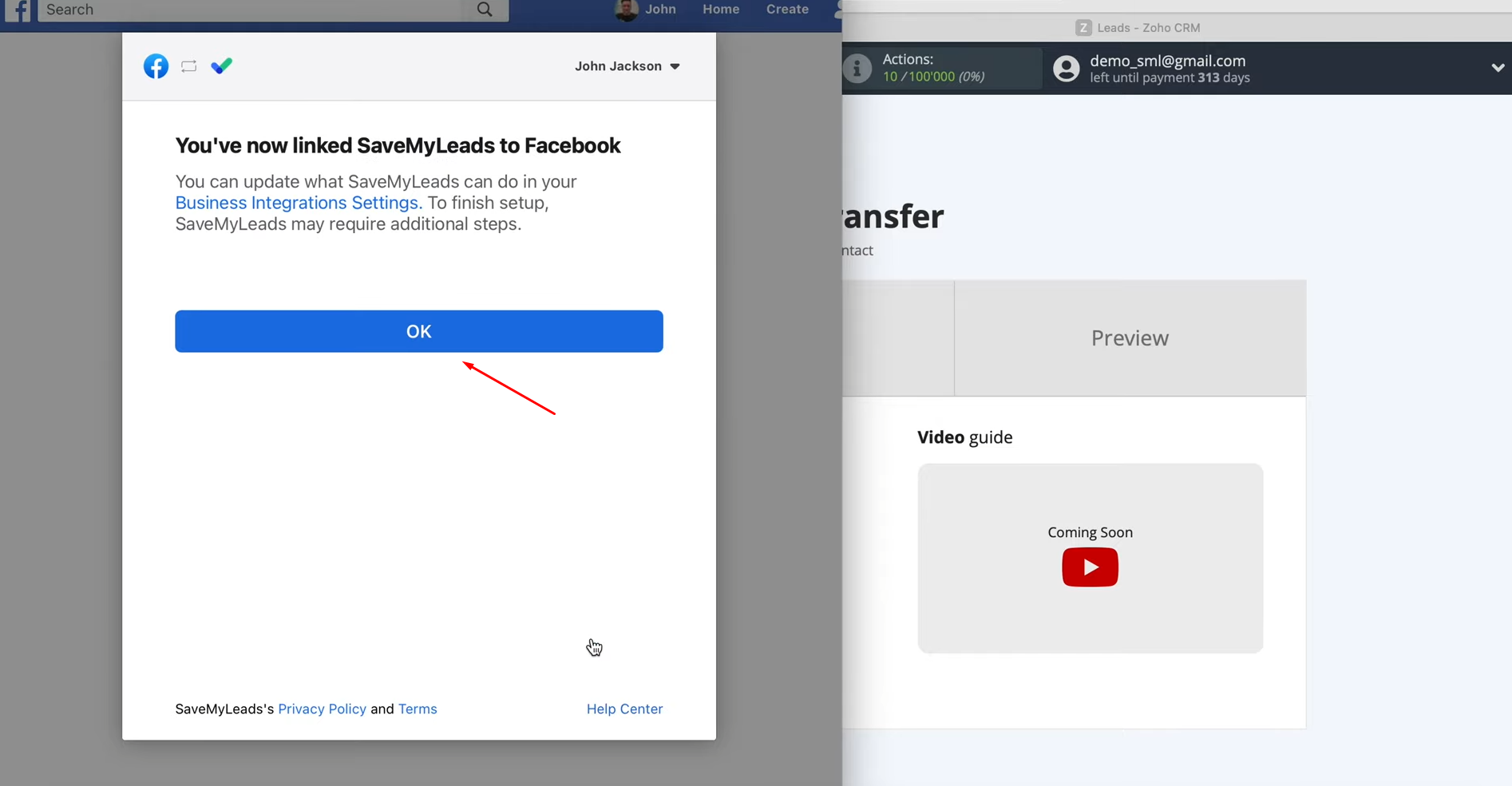 When the connected account is displayed in the list, it must be selected.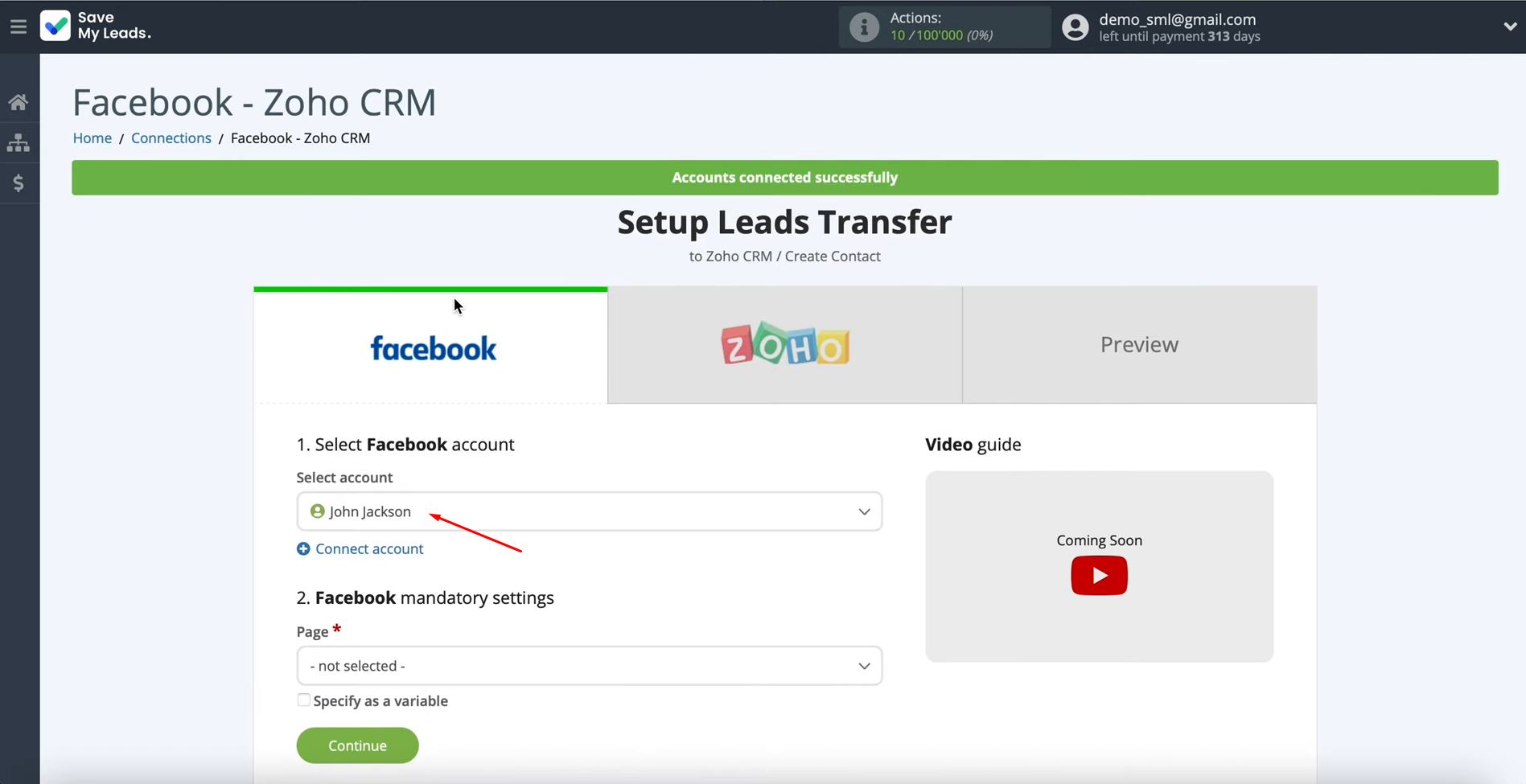 Now you need to choose the advertising page from which the leads will be downloaded.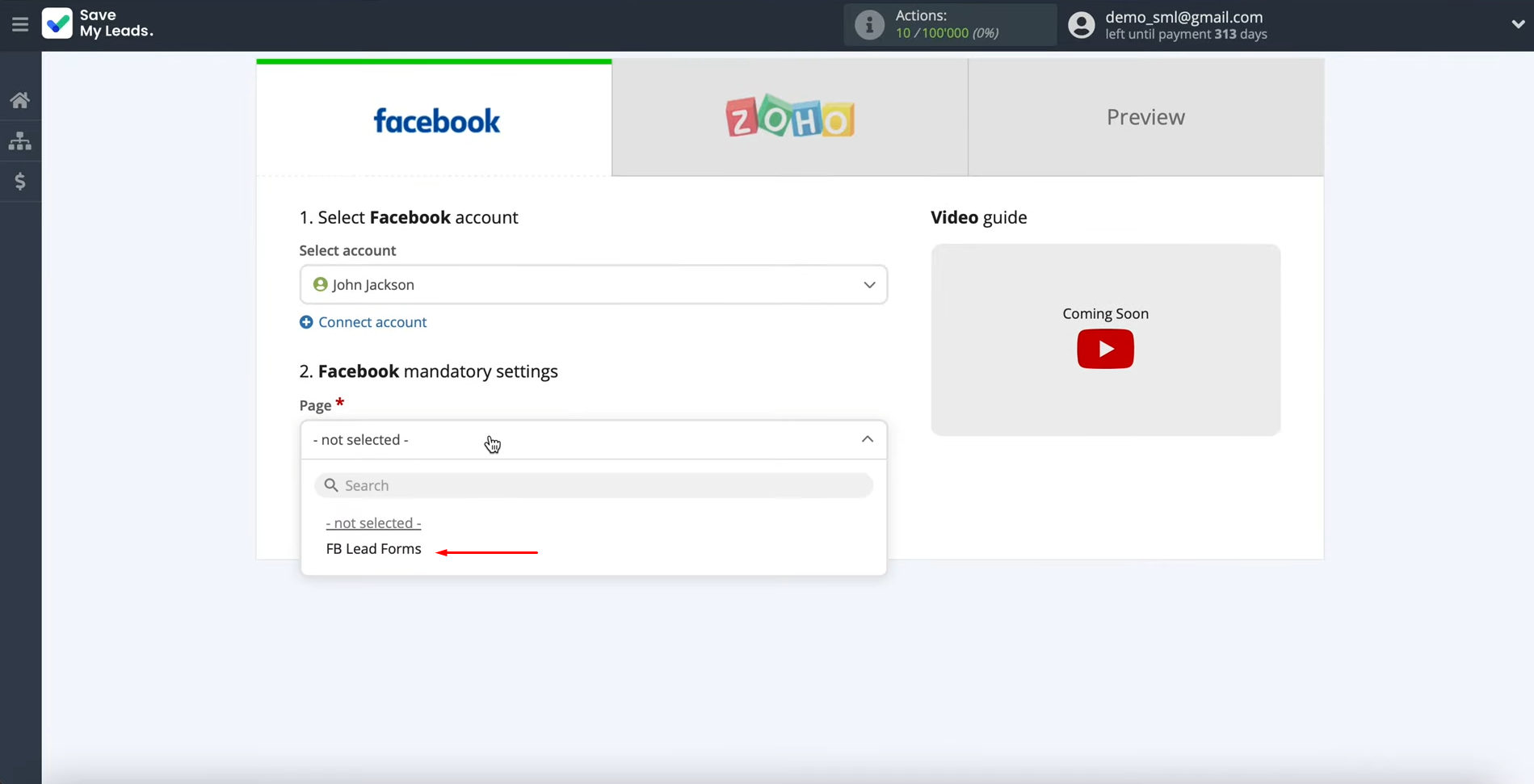 Then you need to specify the form. If you have several forms specified, you will have to create several connections for each of them. Click "Continue".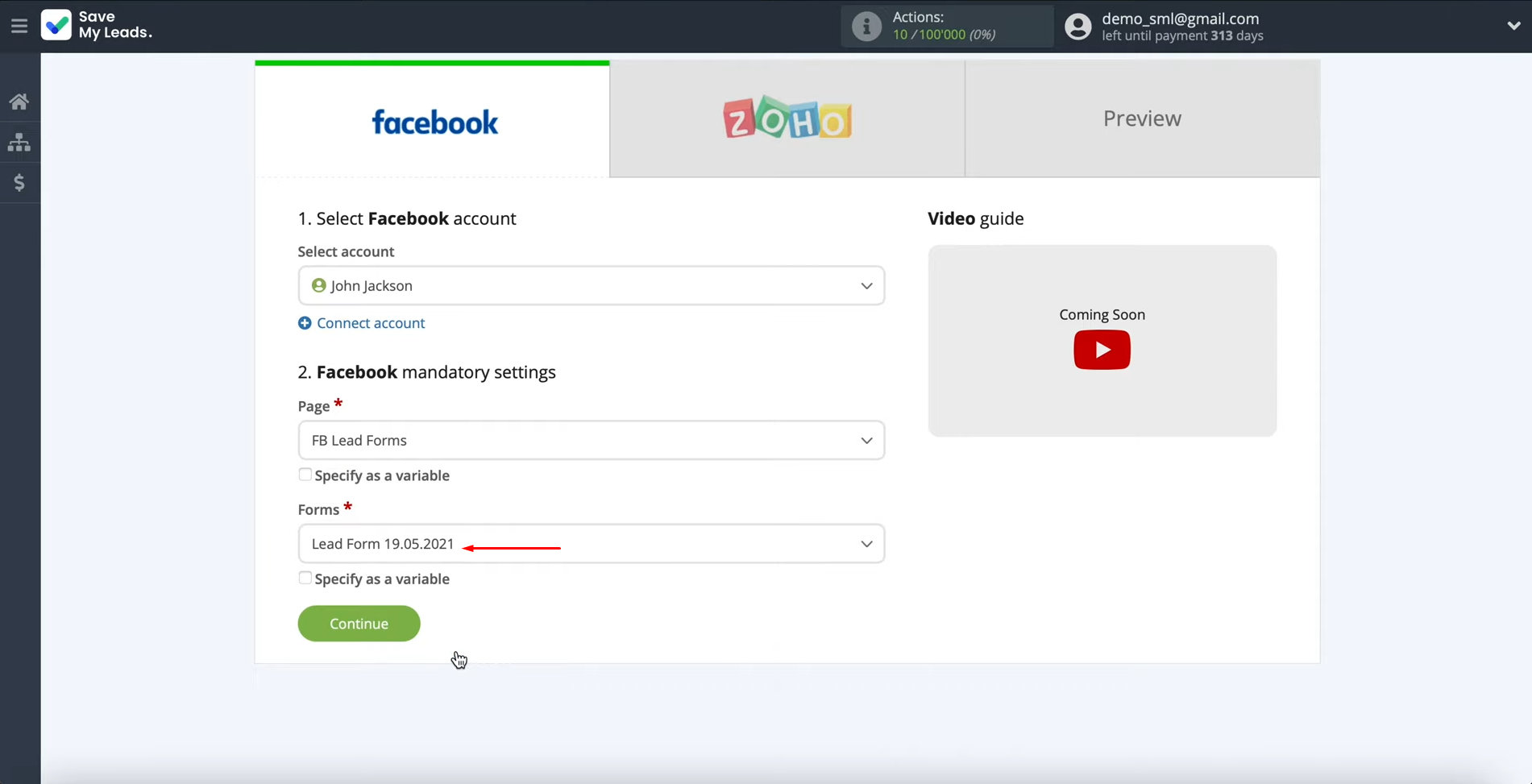 Setting up a Data Receiver – Zoho CRM
Next step in setting up Facebook Lead Ads and Zoho integration is to connect your Zoho CRM account to the SaveMyLeads service. Click "Connect account Zoho CRM".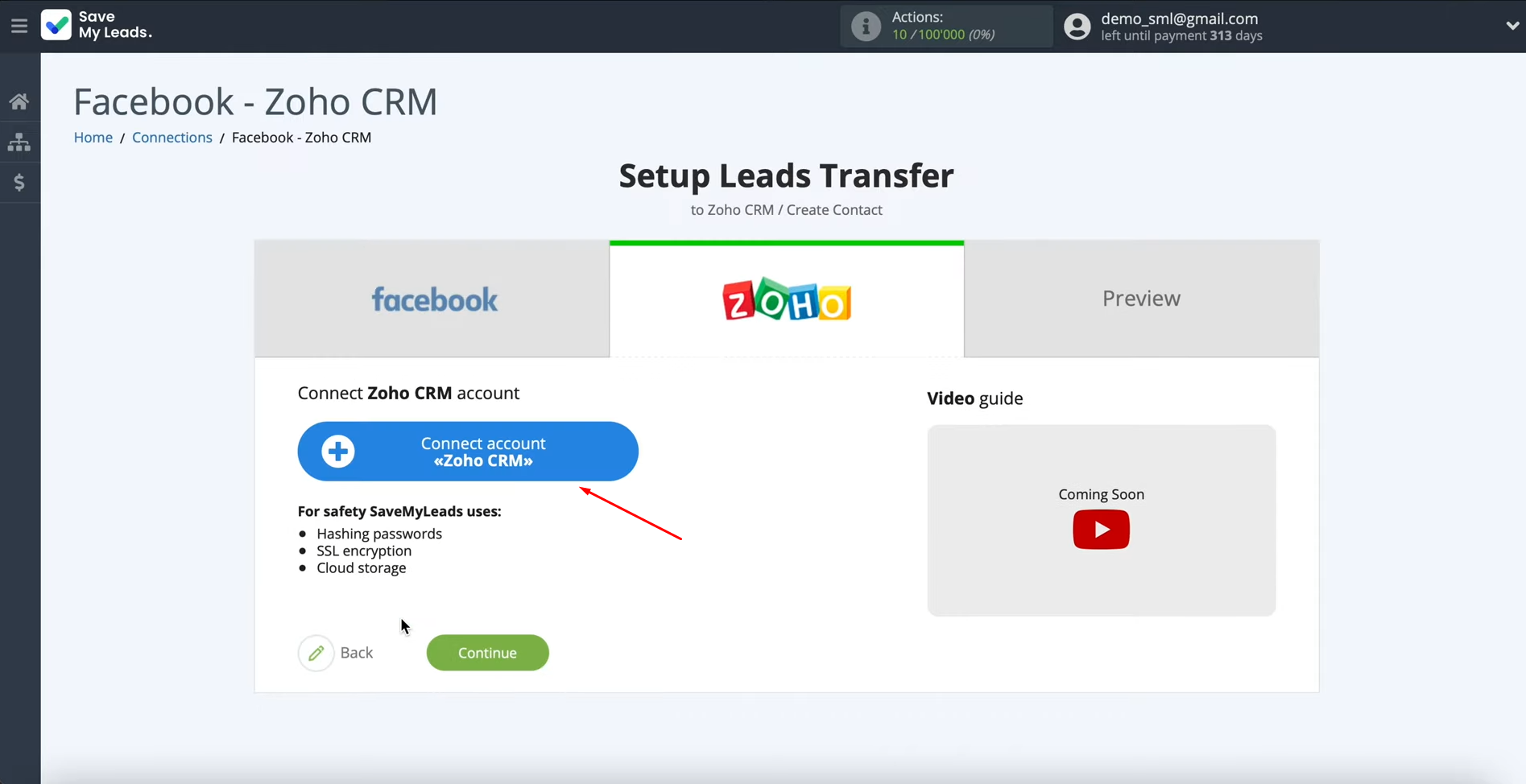 To do this you must specify the email address to which the Zoho CRM account is registered. Click "Next".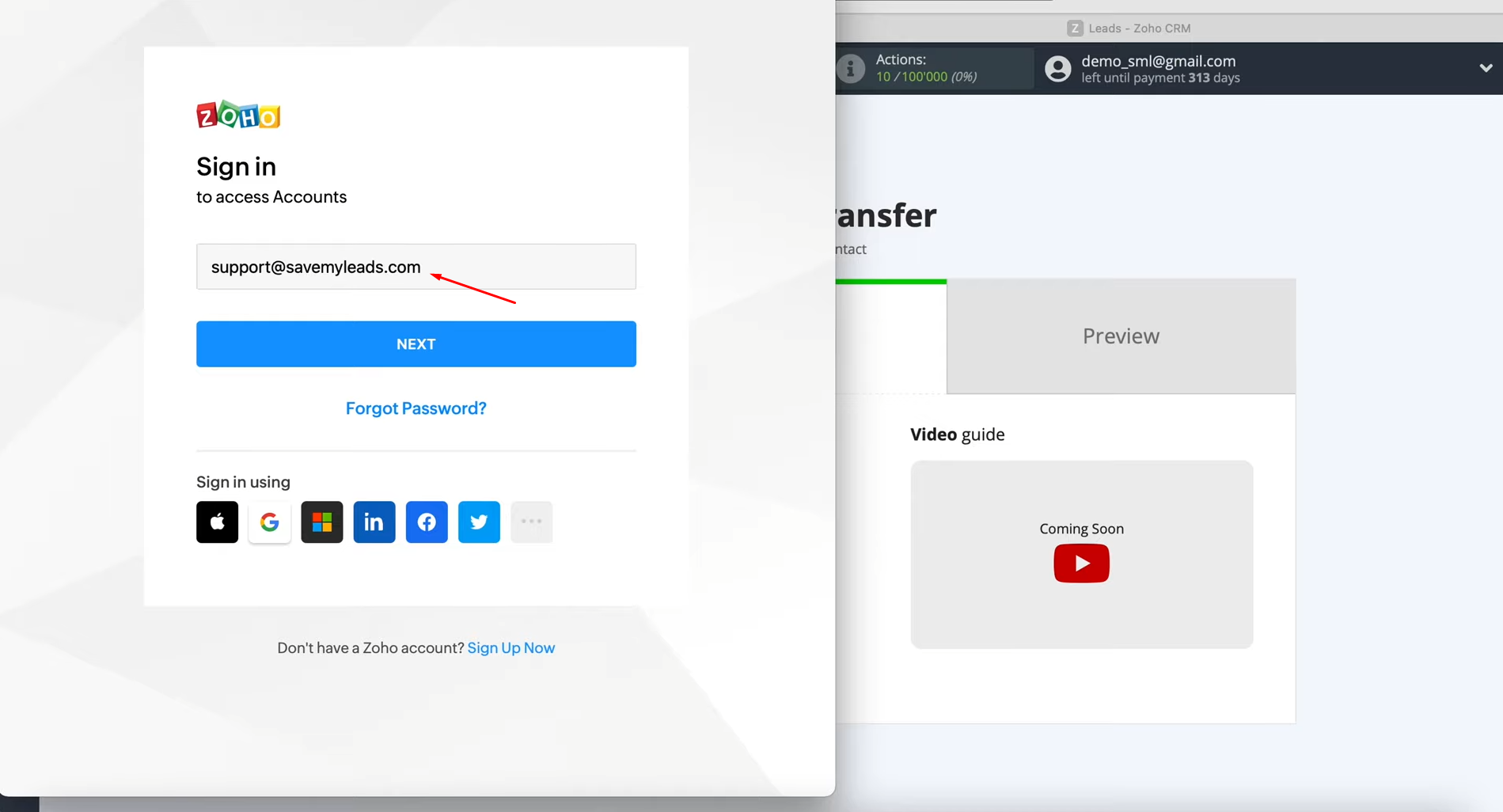 Then you must specify the password for your personal account in Zoho CRM. Click "Sign in".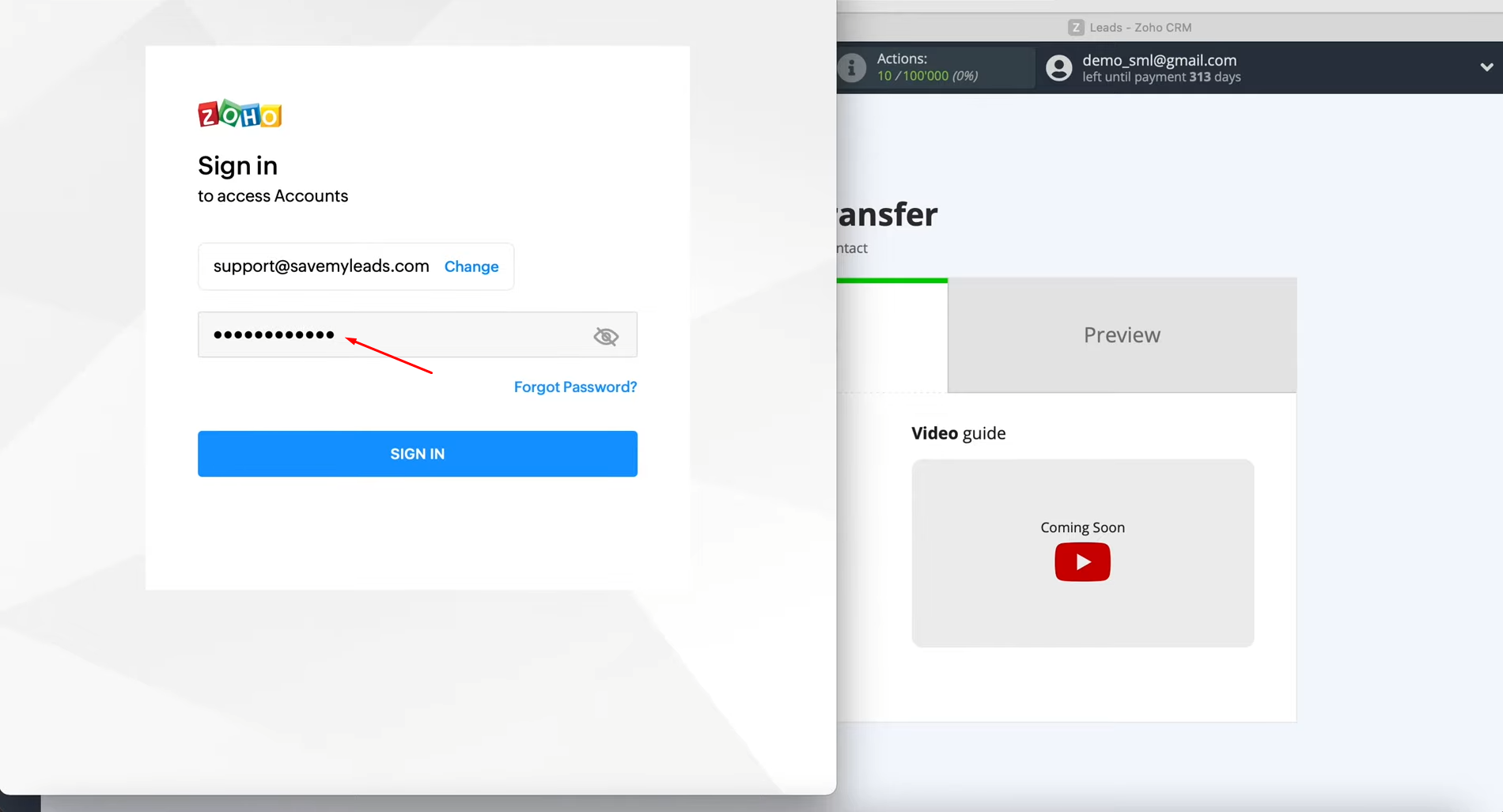 Now you need to go to the mail, where you will receive a letter with a confirmation code. Enter it and click "Verify".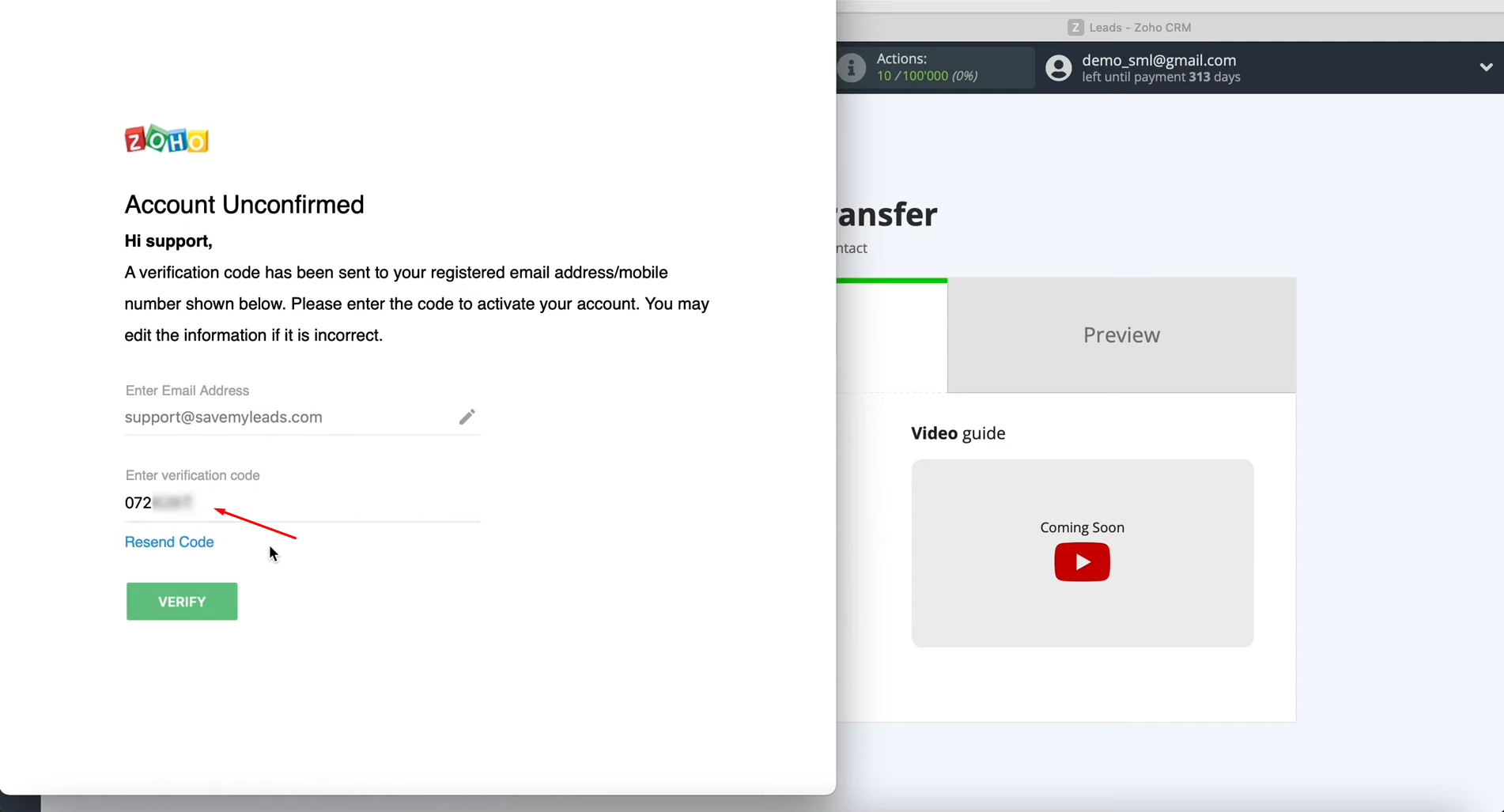 Then confirm your location.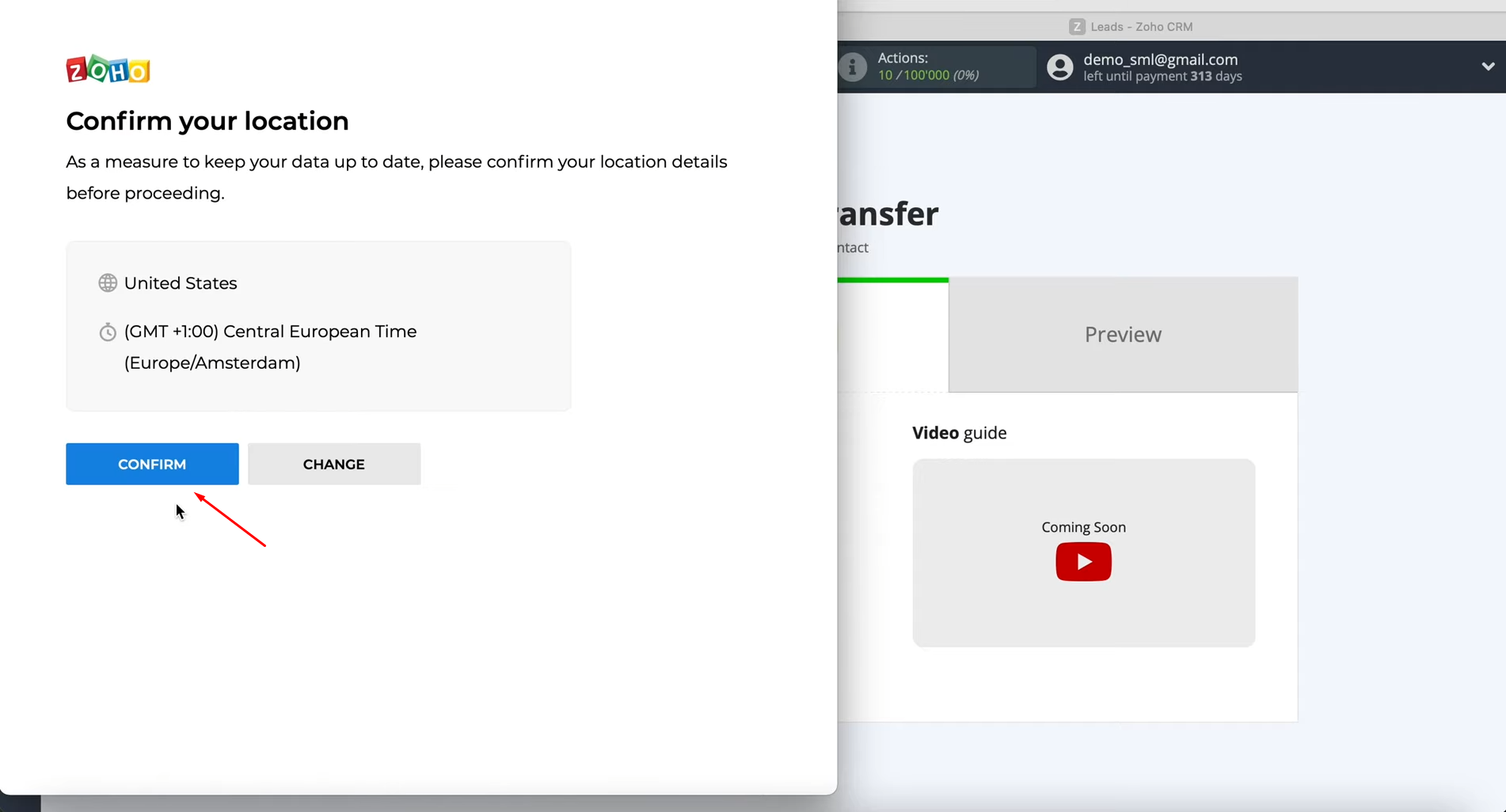 At this stage, you need to provide access for the SaveMyLeads service to your Zoho CRM system. Click "Accept".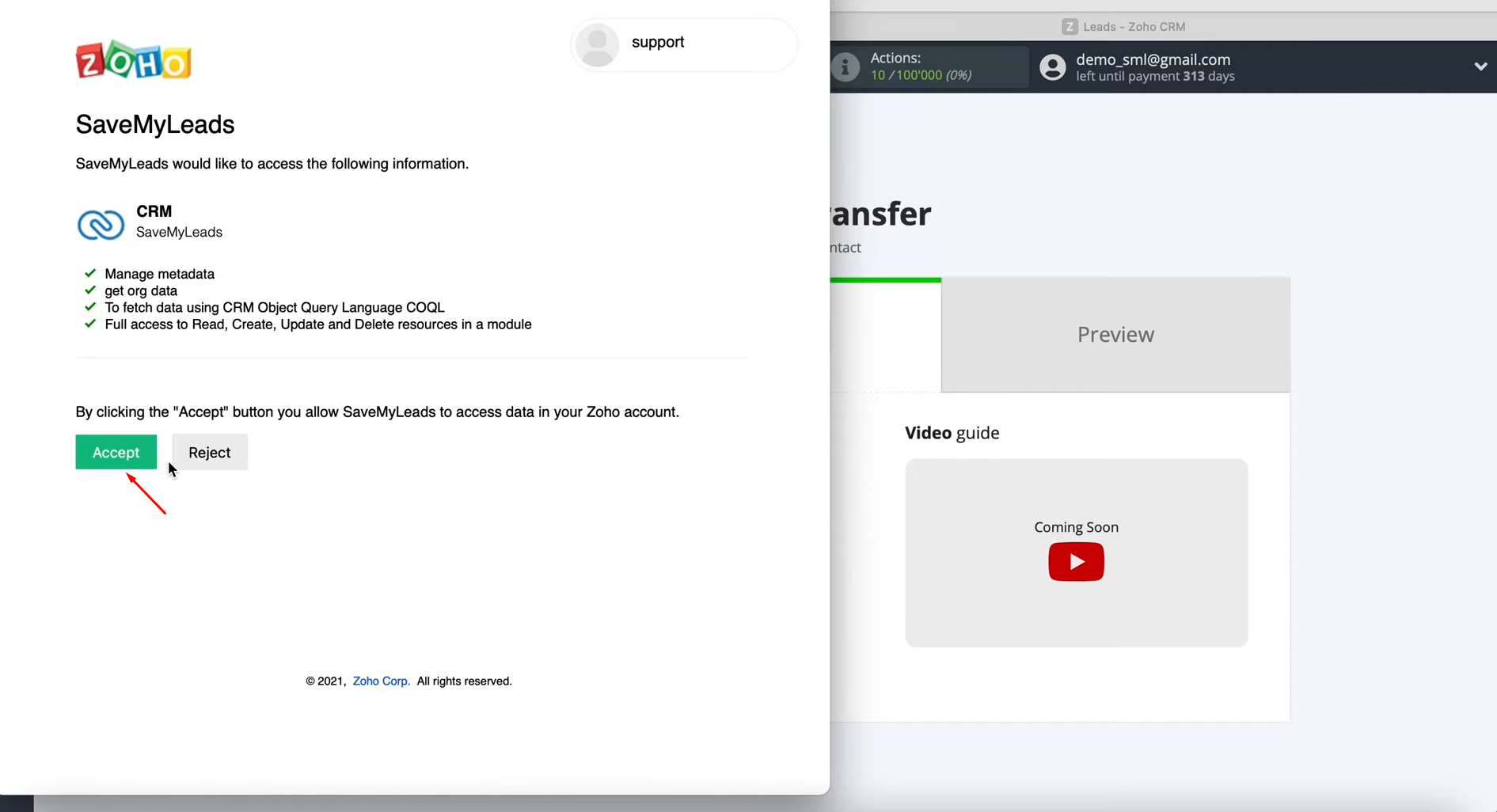 When the connected account is displayed in the list, select it.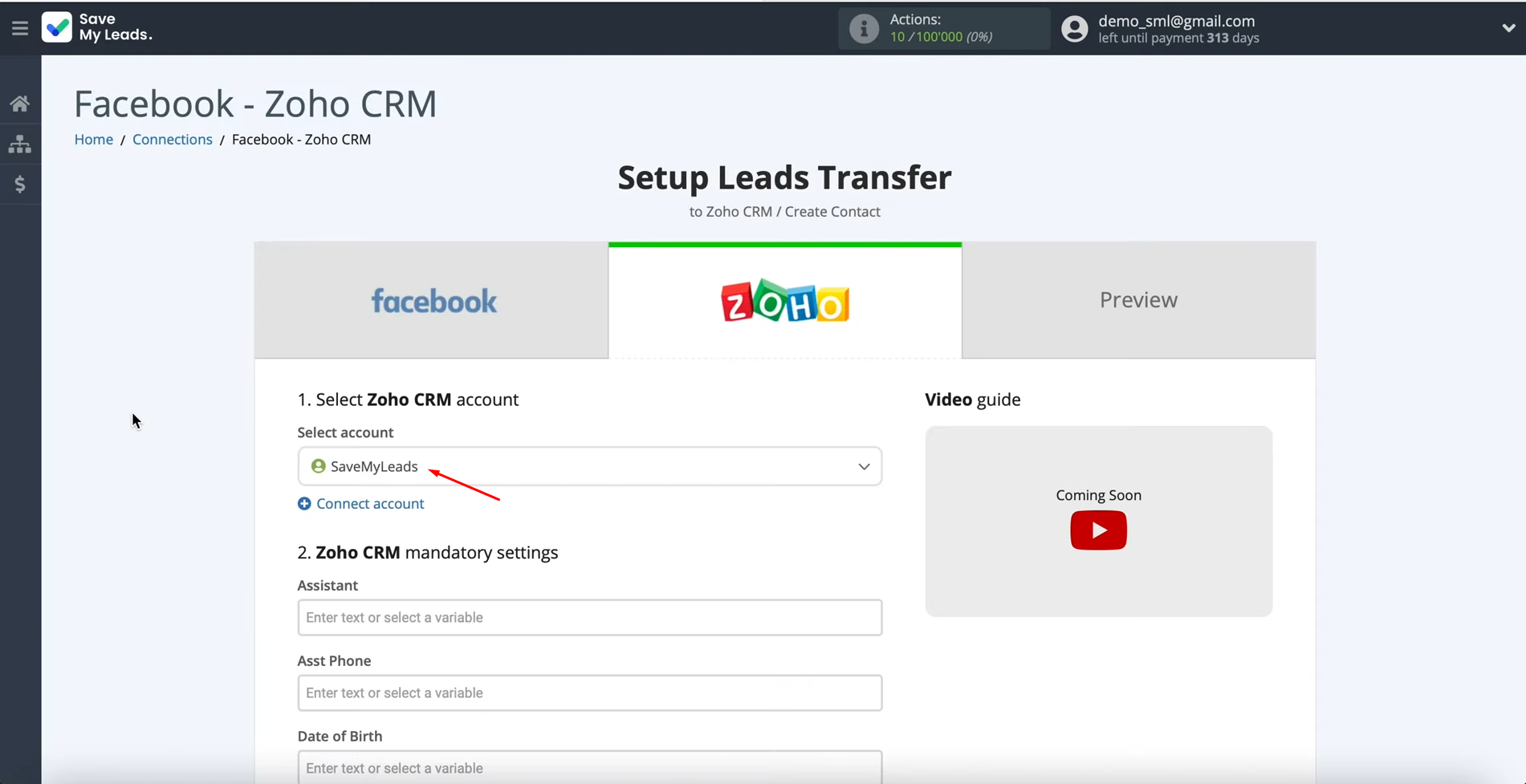 Then you see the Zoho CRM fields in which you have to assign variables from Facebook. To achieve this, click in the field and select a variable from the drop-down list. If you are satisfied with the presetting of fields, you can leave it unchanged.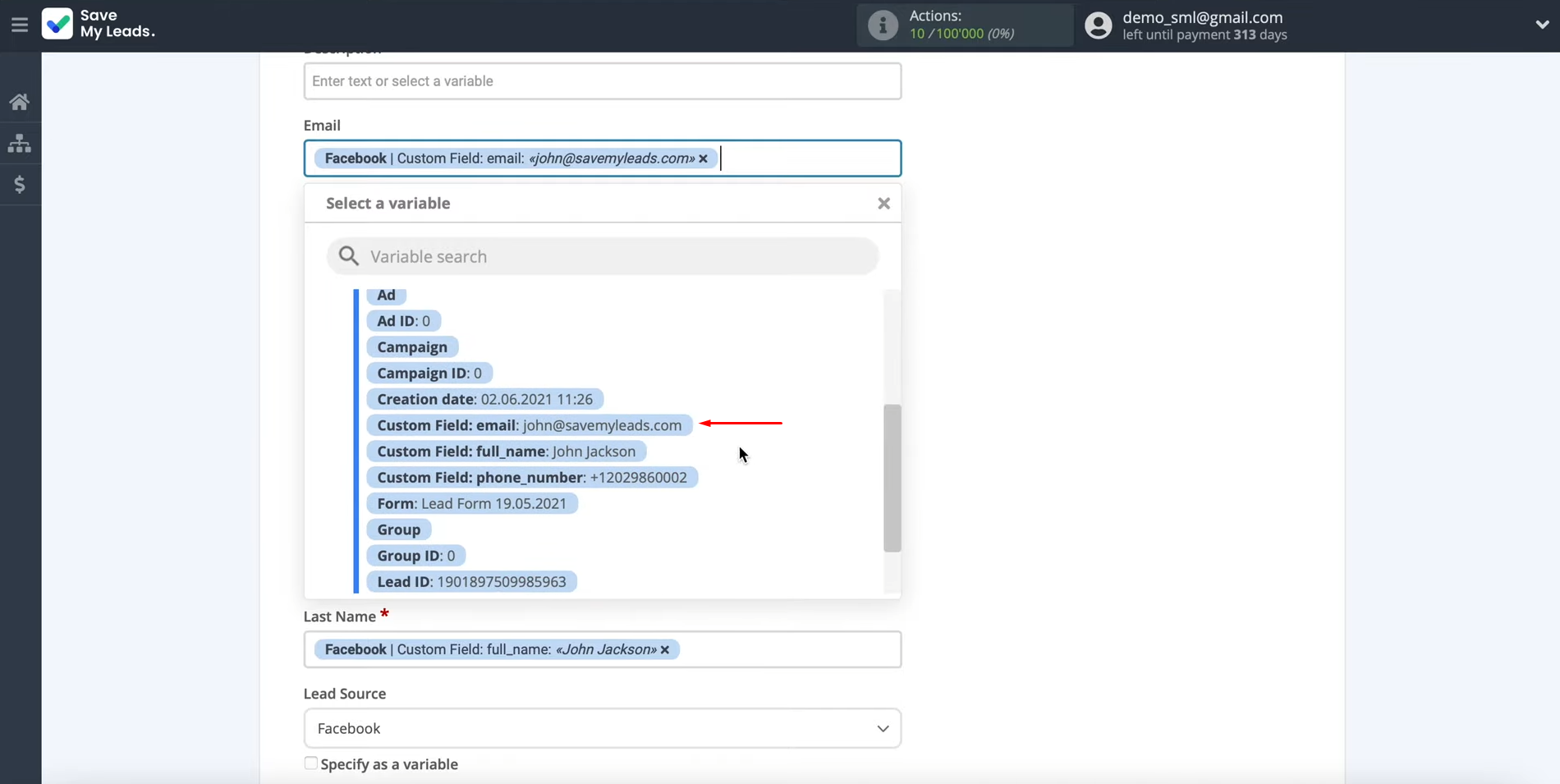 After all the settings are set, click "Continue".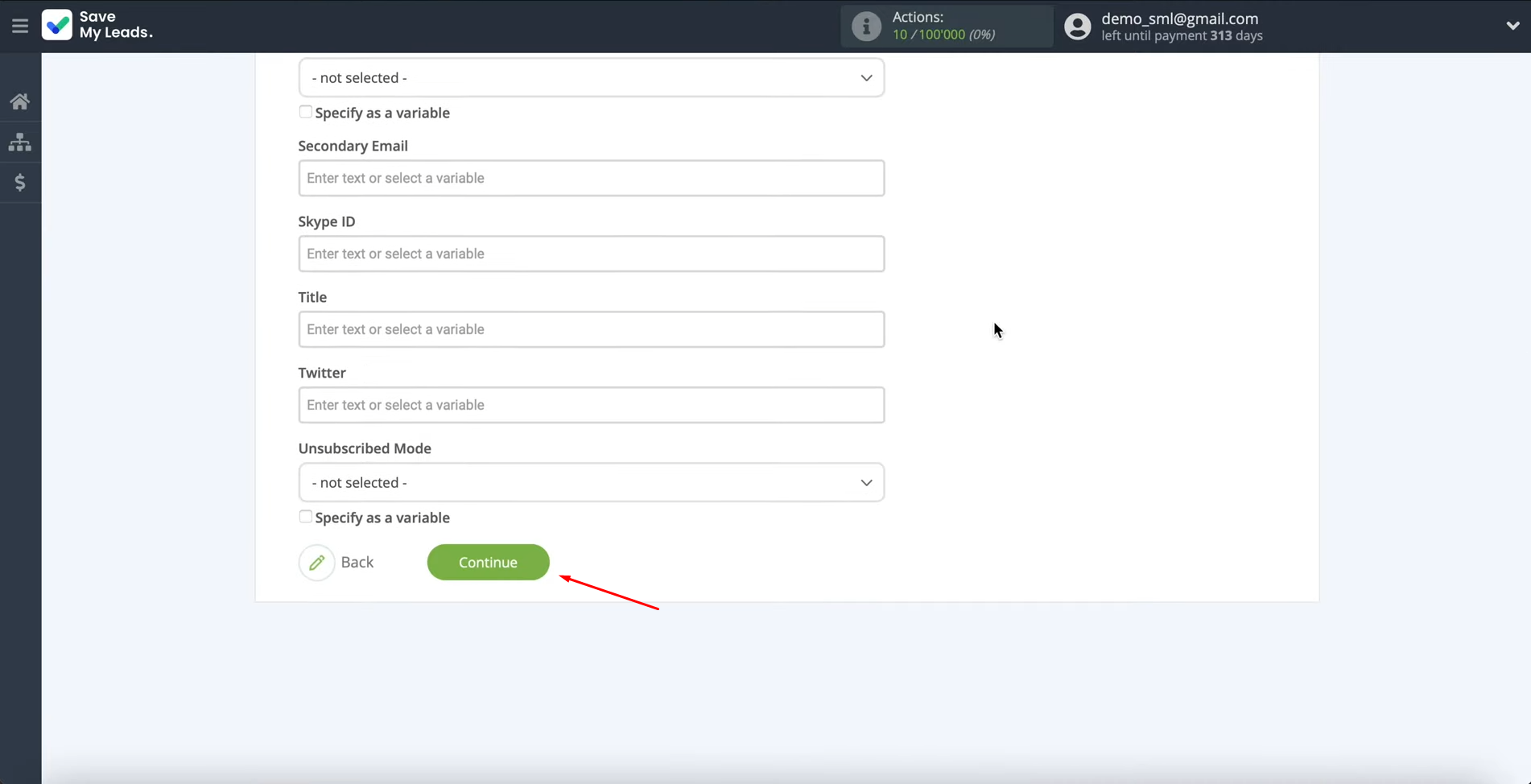 At this stage, you see an example of filling in the fields for a Zoho CRM contact.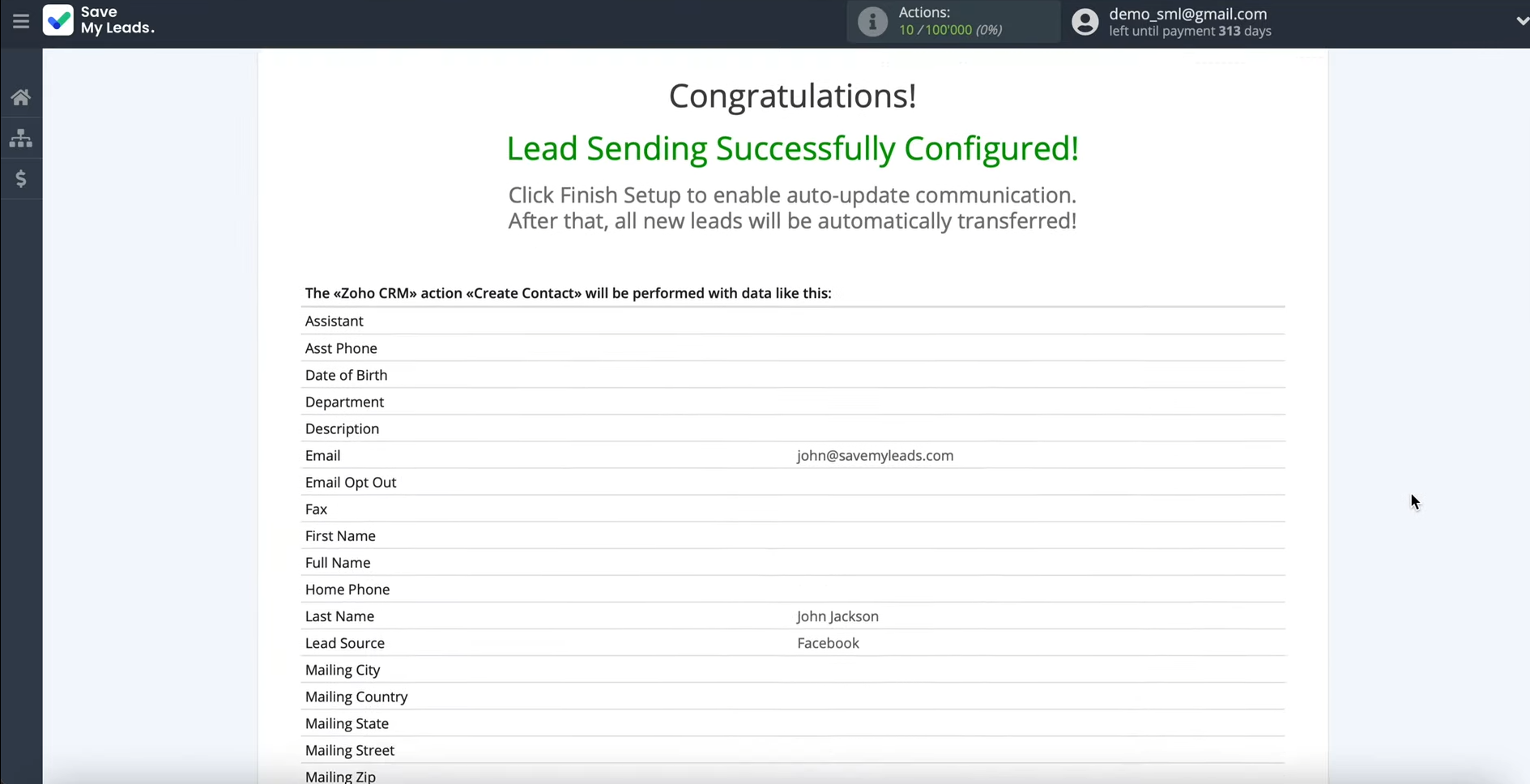 To check the correctness of the settings, click "Send test data to Zoho CRM".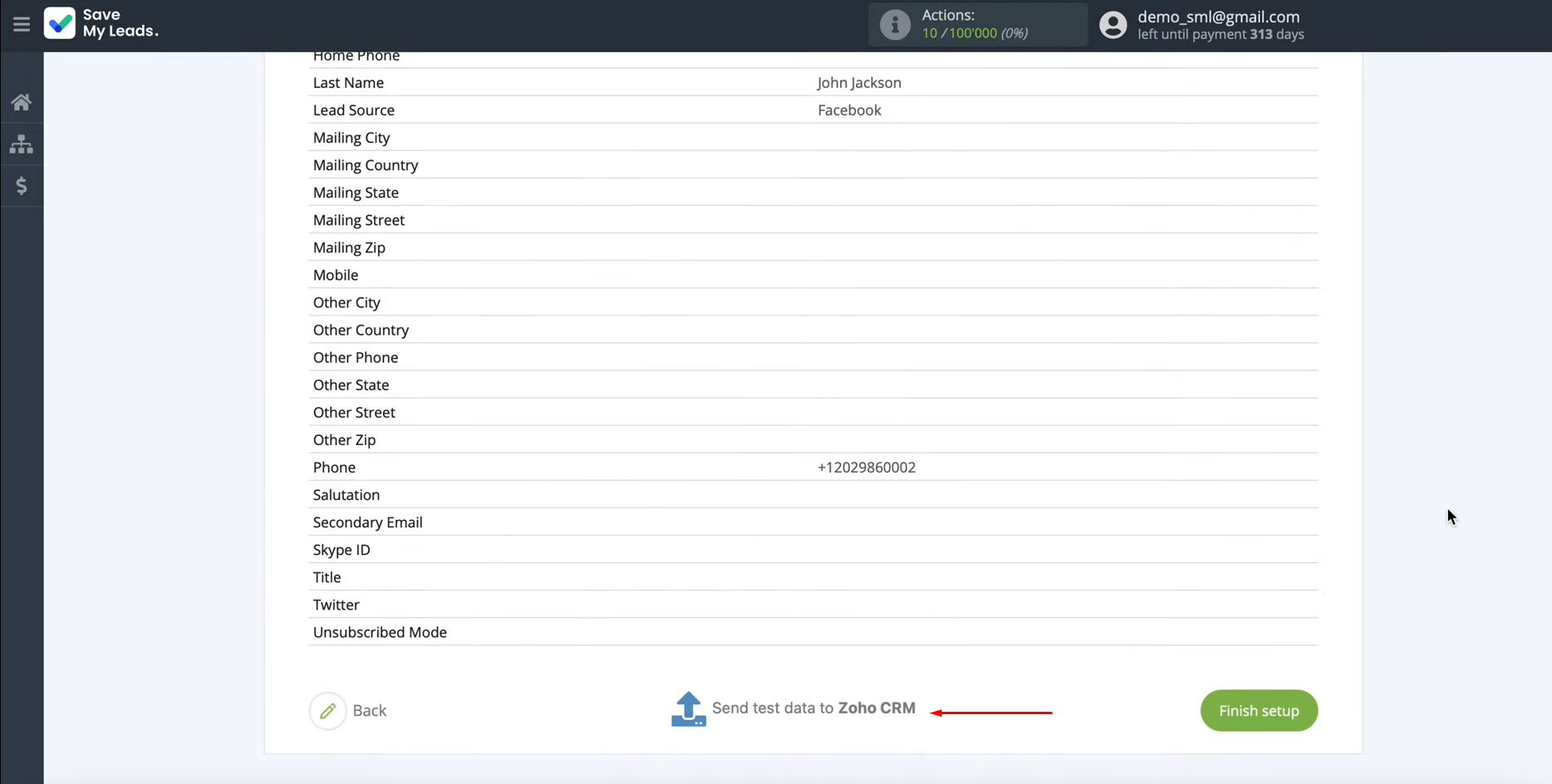 After successful sending, go to your Zoho CRM account and check the result.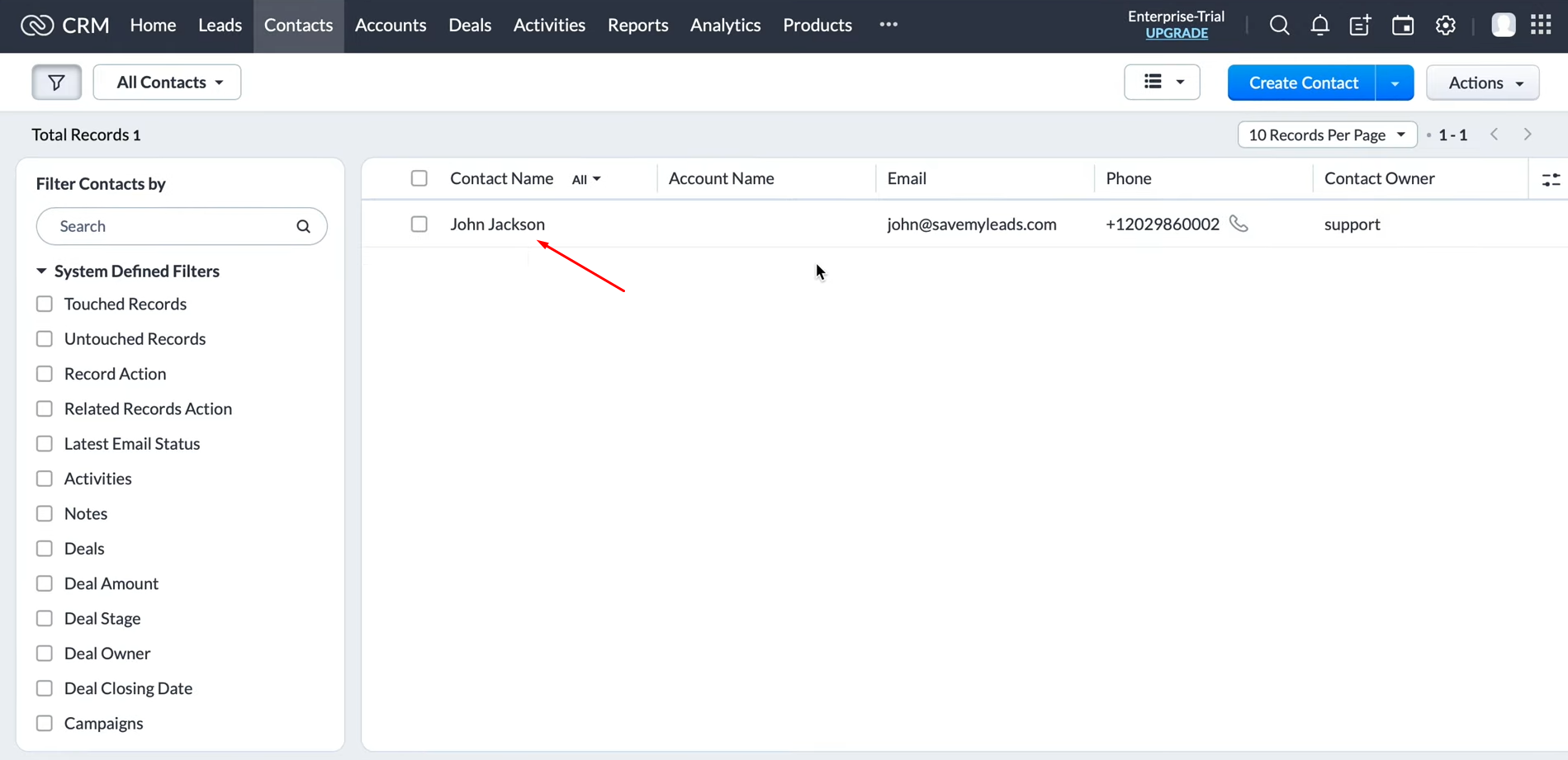 Setting up Auto-update
Return to the SaveMyLeads service and click "Finish setup". Facebook + Zoho integration is almost complete. There is very little left.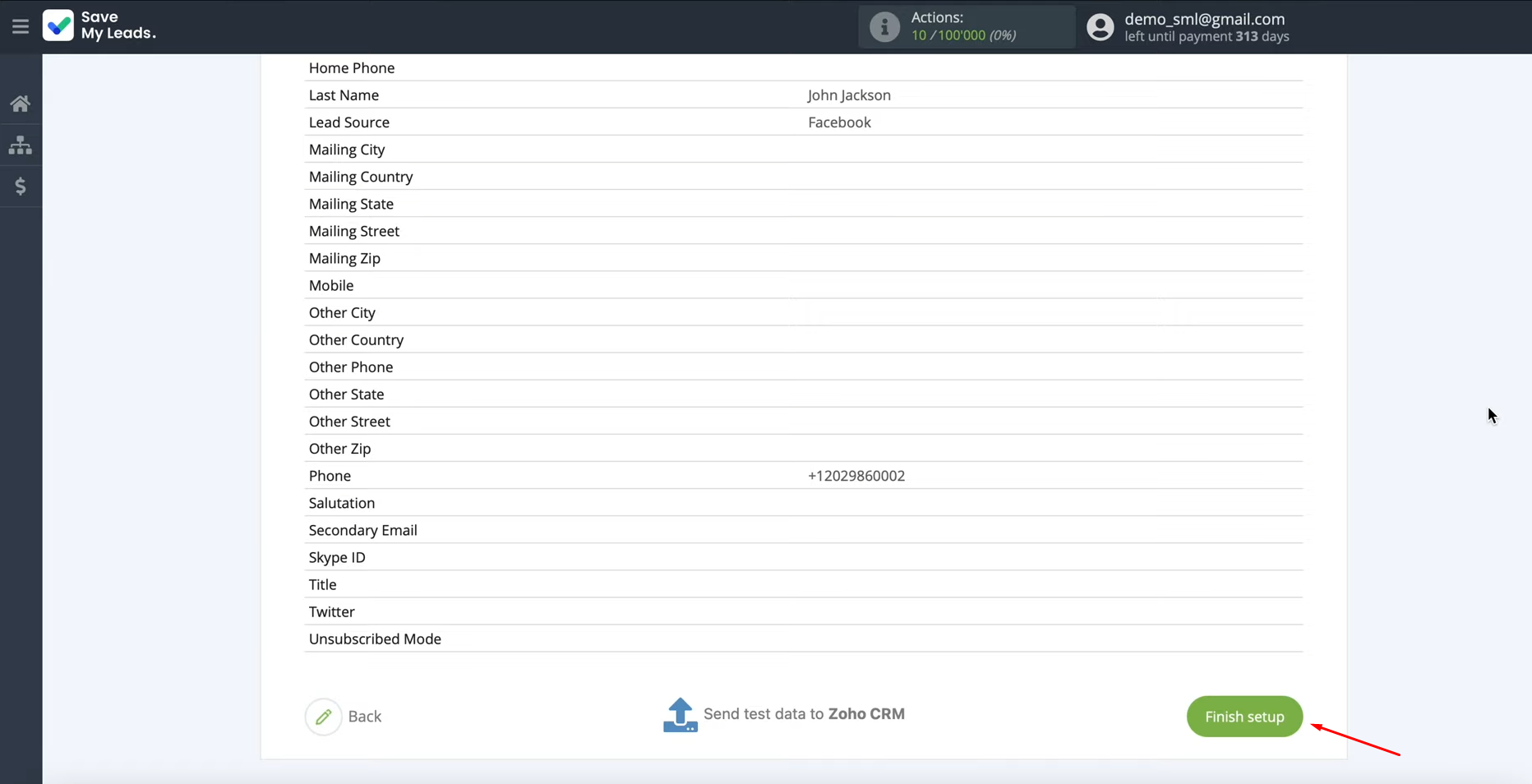 You can change the name of Facebook-Leads and Zoho integration. For this, click the gear icon on the SaveMyLeads service.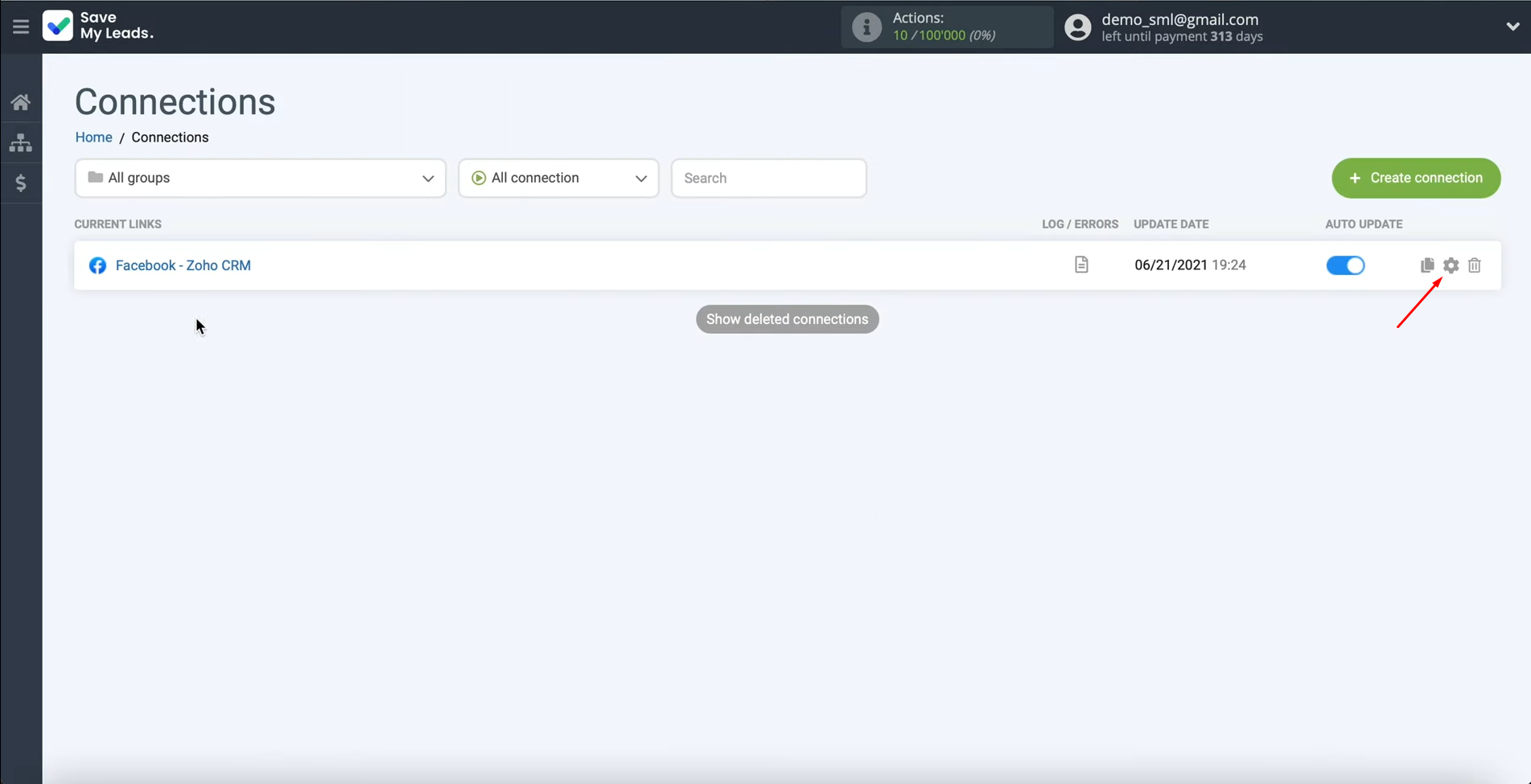 Specify your option. Then click "Save".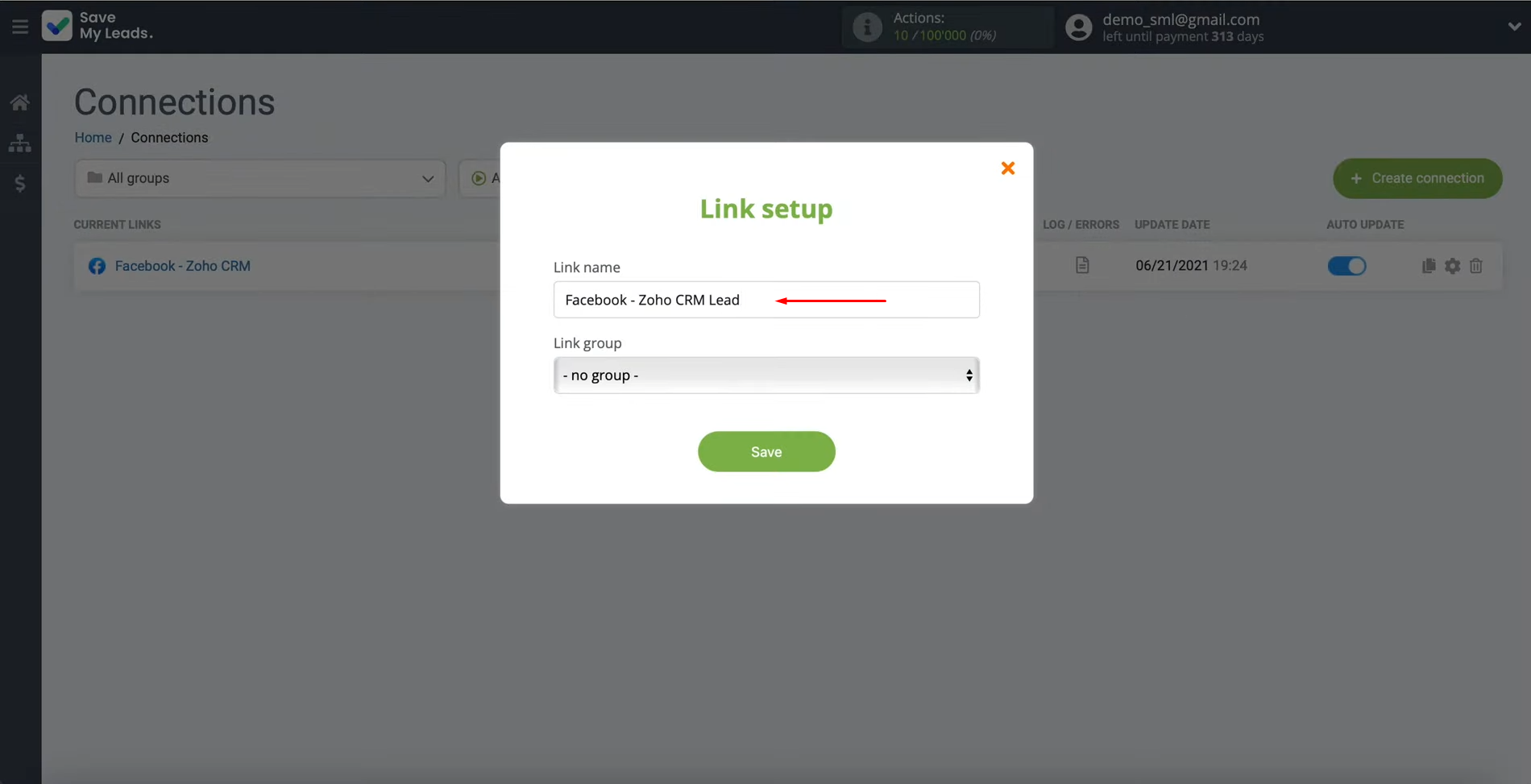 The Result of the Facebook and Zoho CRM Integration
We hope you did everything correctly and that the connection to automatically transfer new leads from Facebook Lead Ads to the Zoho CRM platform is successfully configured. Zoho + Facebook integration will relieve you of the need to manually transfer the contact information of potential clients from one system to another. By spending only up to 10 minutes on this once, you will free up much more time than you would normally spend on such a transfer every day and direct it to solving other, more important tasks. By outsourcing your task to a SaveMyLeads connector, you can ensure that it doesn't miss out on any leads while you can focus on growing your business.
***
What do you do with the data you get from Facebook lead forms? Do you send them to the manager, add them to mailing services, transfer them to the CRM system, use them to implement feedback? Automate all of these processes with the SaveMyLeads online connector. Create integrations so that new Facebook leads are automatically transferred to instant messengers, mailing services, task managers and other tools. Save yourself and your company's employees from routine work.